Become an Arizona Notary
We're here to help you become an Arizona Notary Public!
Welcome to the American Association of Notaries, Since 1994, we've helped more than 300,000* customers become notaries public.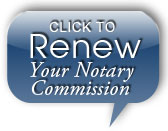 Our Mission
Our mission is to make your experience as an Arizona notary public a protected and rewarding one.
We have assisted thousands of notaries in obtaining or renewing their notary public commission and we look forward to serving you.
We are your complete source for Arizona notary supplies, Arizona notary bonds, education, errors and omissions insurance policies, service, and expertise! We will keep you up to date on Arizona notary law with seminars, educational material, membership, and our online newsletter. We are the voice of Arizona notaries.
* Information is based on research conducted by the American Association of Notaries, Inc. in April 2009, on the number of help requests received by telephone, emails, or by mail, and on the number of notary bonds issued between the years 1995-2008.
What We Do
Education - The American Association of Notaries is dedicated to making sure that notaries everywhere understand their notarial duties and powers. We offer a variety of educational materials to meet your need.
Advocacy - The notary laws that govern our duties as notaries public should be revised as economic, technology, social, and other issues that impact the notary industry. AAN is pleased to represent notaries in Arizona as lawmakers consider enacting new laws affecting notary public practices.
Service - We believe that customer service sets a company apart from its competitors. That's why we strive to offer you top-quality products at reasonable prices and with an emphasis on personal service.
Membership - We urge you to join the American Association of Notaries today and be part of a notary organization that effectively promotes the office of notary public.
Notary bonds and errors and omissions insurance policies provided by this insurance agency, the American Association of Notaries, Inc., are underwritten by Western Surety Company, Universal Surety of America, or Surety Bonding Company of America, which are subsidiaries of CNA Surety. American Association of Notaries, is owned by Kal Tabbara, licensed insurance agent.